Mary Ann's Famous Coconut Cream Pie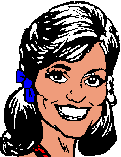 It's finally here and ready for baking! Mary Ann released her famous coconut cream pie recipe to the world. This was taken from the "Mary Ann's Cookbook" and I have yet to try it. If any of you bake this pie, please tell me how it came out.
You can purchase Mary Ann's Cookbook at Amazon.com.
3 egg yolks Dash of salt 3/4 cup sugar 3 cups milk 2 tablespoons butter 1/2 cup cornstarch 1 cup coconut 1/2 teaspoon vanilla extract 1 baked 9-inch pie shell 3 egg whites Coconut for garnish

In the top of a double boiler over simmering water beat the egg yolks and salt. Add the sugar, milk, and butter. As soon as the bottom pot boils, mix the cornstarch with a small amount of water. Add it to the egg yolk mixture a little at a time. Cook until thick, stirring constantly with a wire whisk. Add the coconut and vanilla. Pour the filling into the baked pie shell. Beat the egg whites with a small amount of sugar and spread the meringue over the pie. Sprinkle coconut on top and toast in the oven. Makes 6 servings.