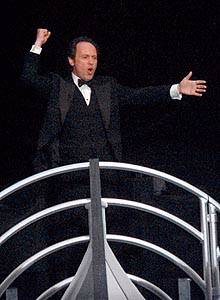 Gilligan's Island was the theme for the 1997 Oscar Awards sung by Billy Crystal. Since the Titanic film won the most awards, they chose the Gilligan theme for it's introduction, which was GREAT! Special thankx goes out to ryaneff@yahoo.com for sending me the file.
---
Thankx to Mike Yaneff for all of his help! Just sit right back and you'll hear a tale, A tale of a giant ship That started many years ago With an overbudget script. The boss was a loud director man Who made accountants sick. Two studios teamed up to pay For a three hour flick, A three hour flick. It's made a billion dollars now I hope it springs some leaks. Some other films deserve a break Like "My Giant" in three weeks, "My Giant" in three weeks. But "Titanic" is the story here I've gotta tip my hat To Gilligan The Skipper too The Propellor Guy And the Ice The Movie Star The Professor and Mary Ann Here on Oscar's big night
---
Some lyrics written by Tony and Jenny Laundrie Just sit right back and you'll hear a tale, A tale of a fateful flick. That started from Southhampton port Aboard the Titanic. My mate promised lots of sailing lore, But Cupid shot his bow. Her heart set sail with Jack that day For a three hour show, a three hour show. The hero started holding Rose. They kissed, their hair was tossed. If not for the timing of an iceberg crash, My dinner would be lost, my dinner would be lost. The ship struck ground on the floor of this Uncharted northern sea, With Guggenheim, The skipper, too, A millionaire, Straus's wife. Beneath the stars, Looking for a place on the grand staircase, Where they will again smile!