The Odyssey Cruise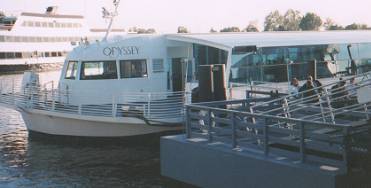 Pictures From the Cruise Here
Report by attendee Art Hutchinson

I went on the Washington D.C. Gilligan's Island Odyssey Cruise on Oct 20, 1998. It was a GREAT evening. I purchased the $175 "VIP Reception" ticket, which was supposed to allow us a "private" reception with the Castaways from 5:45pm until sailing at 7:00pm. Unfortunately, the Press used this time to commandeer the castaways for interviews, etc... so they could leave the boat prior to sailing to get their reports on the evening news. Dawn, Bob, and Russell tried their best to mingle with the paying guests, unfortunately Tina was tied up with the press for most of the night possibly discussing her next project.

We finally set sail, and it was a three hour party. Dawn, Bob and Russell were so accessable, answering every often asked question as if it was the first time they ever heard it. I had brought a lifering on board for the castaways to sign, and D, B, and R signed it immediately (and commented on what a good idea it was). Tina was being interviewed by a press agent that stayed on board, so I waited patiently for the interview to end.

I went and had my collector dolls signed by Bob and Russell, my Bob Denver book signed by Dawn, then retrieved my lifering to try Tina again.

Dinner was served, each castaway was given the American Icon Award by the Women of Film and Video, and each gave speeches. (Joanne Worley was Master of Ceremony????????) Bob kept it short, but appreciative, Russell gave a moving tribute to his deceased son, and Dawn was so sweet as she talked about the deceased castaways, and what being Mary Ann meant to her. I finally approached Tina and I got my 4th sig on the lifering (it's pretty cool.) I was hero of the table when I came back with the signature (they suffered through my ordeal with me, as they wanted me to succeed).

Long story short, I had a blast with the castaways. I hope you enjoy the pics when Willy Gilligan posts them.

RANDOM THOUGHTS: I brought my Dart Card Box and each castaway didn't know what it was. I explained it, and they seemed very interested.

I spent a good deal of time with Bob discussing his web site. He is VERY interested in knowing what the fans would like on it, and he said to email him with ideas.

I ended up with Bob and Dreama's placetags from the dinner table as a keepsake.

Dawn usually signs with the "cursive, rounded D (in Dawn), but on my lifering, she signed with a "printed" D. Interesting. You'll see it in the pics.

Regards

Art

---
Art and Dawn

Art's Autographs From the Cruise

Bob Denver and Wife

Bob Denver Outside

Tina and Russell

Cast Picture

Dawn, Bob and Tina

Cast with Awards

Cast With Awards Again

Tina

Tina 2

Tina 3

Ticket

Menu