Official Gilligan's Island Musical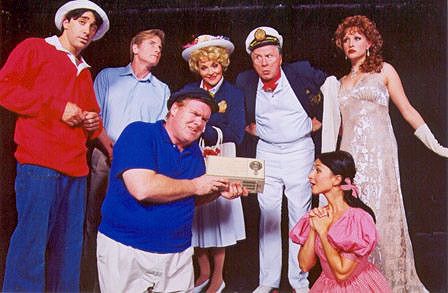 GILLIGAN'S ISLAND: THE MUSICAL
On Stage LIVE at the Scherr Forum
2100 E. Thousand Oaks Blvd. California.
About 30 mins north of Los Angeles.
Phone: 805-449-ARTS


"Gilligan" sets sail again -- as musical


Gilligan's Island: The Musical (Scherr Forum Theater, Thousand Oaks Civic Arts Plaza; 394 seats; $31 top; 2:00)


By Julio Martinez


HOLLYWOOD (Variety) - A fateful trip down memory lane: director/choreographer Sha Newman and an excellent cast faithfully duplicate the caricaturized performances of "Gilligan's Island's" TV regulars right down to Marshall Borden's impressive mimicking of Jim Backus' distinctive speech inflections as monumentally self-involved millionaire Thurston Howell III. It is fitting that the current shenanigans of Gilligan (Grant Rosen) and company are just as cartoonish as the original adventures of the seven castaways stranded on "this uncharted desert isle."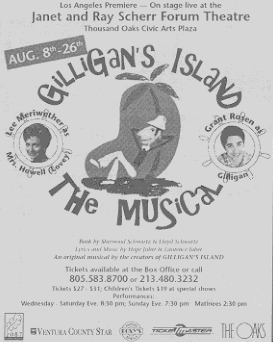 Lee Meriwether heads an all-star cast in an original musical by the creators of GILLIGAN'S ISLAND featuring the beloved characters who made GILLIGAN'S ISLAND a part of American Life. Lee was also the "Catwoman" in the first made for tv movie in 1966 - Batman!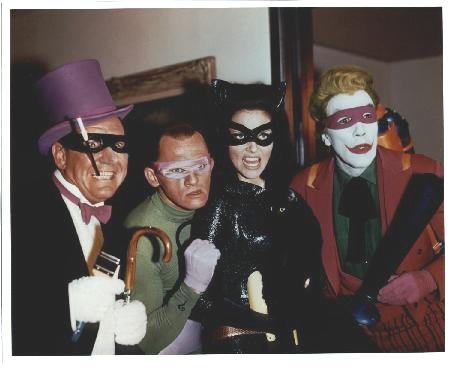 "Gilligan" patriarch Sherwood Schwartz -- collaborating with son Lloyd (book), daughter Hope and her husband, ex-Wings lead guitarist Laurence Juber (music and lyrics) -- has created an original book that could well be an elongated "Gilligan's Island" episode.

Flitting about the colorful and effective two-dimensional mobile set pieces of LJD Enterprises, the Minnow survivors launch themselves wholeheartedly into their ludicrous efforts to re-assemble a junked rocket to send a message to civilization about their location. The Professor, played to pedantic perfection by Gordon Goodman, has aimed the rocket at Washington, D.C., but promises it will land somewhere harmless. Howell quips, "Oh you mean on Congress." These are the jokes, folks.

Complementing the elder and younger Schwartz book are the simple, straightforward tunes of Mr. and Mrs. Juber, backed with great facility by music director Gerald Sternbach's five-piece band. Such ensemble fare as "Shipwrecked," "Though the Winds May Blow," "Together," "Good-Bye Island" and "Worlds Apart" feel right at home with the show opening and closing full-cast outings on the sitcom's well-known original theme, ``The Ballad of Gilligan's Island."

Rosen melds into Bob Denver's klutzy Gilligan persona quite nicely. He also proves an adept vocalist, singing and soft-shoeing his way through "Lucky Guy." Melissa Fahn (voice of Hello Kitty on Nickelodeon's "Invader Zim") is perfectly squeaky clean as Mary Ann, who expresses her unrequited affection for Gilligan with the heartfelt, "Things I Never Said."

Shea Alexander is dead-on as voluptuous movie star Ginger. She also offers some of the comic highlights of the production with her quotes from famous works, particularly her hilarious, breathy interpretation of the "Attention must be paid to this man" speech from "Death of a Salesman." Matthew Kimbrough's Skipper is on target with his Alan Hale-like frustrated muggings at the antics of Gilligan despite being a bit too operatic with his vocalizing.

TV vet Lee Meriwether ("Barnaby Jones") teams with hubby Borden as Mrs. Lovey Howell. Aided by the impressive costumes of Larry Watts and Tom Phillips, Meriwether and Borden offer an ongoing sight gag taken right from the series, changing into different matching outfits for every scene.

This musical tribute by the Schwartzes and the Jubers doesn't have the legs to aim for the bright lights of Broadway but can prove quite a successful addition to the community theater circuit. Of course, with the help of retro cable channels, the sun will never set on the affection for and antics of Gilligan and friends.


Gilligan .............. Grant Rosen

Skipper ............... Matthew Kimbrough

Thurston Howell III ... Marshall Borden

Mrs. Lovey Howell ..... Lee Meriwether

Ginger ................ Shea Alexander

Professor ............. Gordon Goodman

Mary Ann .............. Melissa Fahn

Na Neila .............. Perry L. Brown