Gilligan's Island Escondido Musical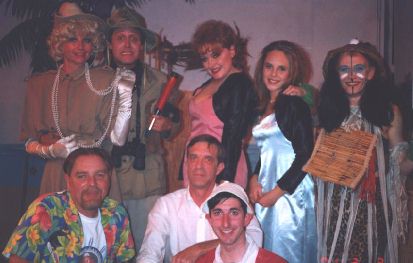 A NEW MUSICAL Gilligan's Island:
Review By Pete Salisbury from The Skipper's Log


A New Musical, written and directed by Stephen Storc, starring Sam Warner as MR.Thurston Howell III, Julie Elghanian as Ginger Grant, Liz Lansing as Mary Ann Summers, Mark Lansing as Professor Roy Hinkley, Aaron Speak as first-mate Gilligan and Jennifer Rosson as the Witch Doctor. For those of you keeping track, yes somebody is missing and boy do we have a story for you!


Theatrx's production of Steve Coen's 'Gilligan's Island: A New Musical' which opened in Escondido California in February is not Irving Berlin, it's not even Sherwood Schwartz but something the castaways themselves would of put on the next time Ginger was feeling blue about missing the Hollywood lime light. The play opens in the dark with a recording of Charles Maxwell's radio announcement of the search for the crew and passengers of the ill-fated S.S. MINNOW. As the lights came up the cast sing the famous theme song but the Skipper appears to be indisposed. His legs are visible as he is apparently taking care of same urgent business in a bamboo screened outhouse. The plot follows the well known 7 deadly sin scenario. A visiting female witch doctor is sniffing out 'Evil' when she accidently bonks Gilligan on the head with her Wilson headed staff (Used from the movie Castaway with Tom Hanks). Gilligan awakens apparently suffering from amnesia believing himself to be Satan, ruler of all Hades. This leads to the cast taking turns singing about their supposed sins. Mr. Howell, played cartoonishly by a very likable Sam Warner, sings about his sin of GREED in 'Money'. Ginger, heftily played by Julie Elghanian, sings of LUST in 'I Got It'. Mary Ann, a very young Liz Lansing, sings of her ENVY of Ginger in 'I Want to be Her'. The Professor, Mark Lansing, the most convincing of the group sings 'I Can Make Anything' for his sin of PRIDE. Mrs. Howell, the soon to be real life wife of Mr. Howell - Cheryl Warner, sings the most out of character song 'I Love to Nap' for her sin of SLOTH. Dancing within his outhouse the Skipper, voiced by Sam Warner sings 'Food' to his two sins of GLUTTONY and ANGER. Gilligan, a boyish Aaron Speak gets into the act with 'Why Not Sin'. With the help of the Witch doctor the other castaways go over the ingredients to make an exorcism potion that along with another accidental bonk on the head returns Gilligan to his sitcom normalcy. As the castaways rejoice the Witch doctor takes one last sniff and is surprised by the 'real' Satan who is hiding within one of the other castaways.


Julie Elghanian who plays Movie Star Ginger Grant, took the time to talk to The Skipper's Log to explain why the Skipper has such a constipated role. "We certainly had a great time doing the show. As for the Skipper...well... there is quite a story there...we had the role cast...then had to postpone opening, due to a lack of a Gilligan...and so we lost our Skipper...Then it was cast again... and lost him as well. This happened a few times. We were running out of options... so...less than a week before opening we were sitting around after rehearsal trying to brainstorm to find a new Skipper. Since we were running out of time...we started joking about him never being seen on stage...he'd always be in a hut or something... well...you know actors...it progressed into a latrine and through all the potty jokes we started liking the idea better and better...until we were all hoping that the other actors we decided could play the part wouldn't be able to do it. So at four days until opening, we made it official... Sam Warner would pre-record the lines and we would cut the Skipper's song. So opening weekend...there was not a 'Food' song. It was re-added the following week... now it is one of my personal favorites".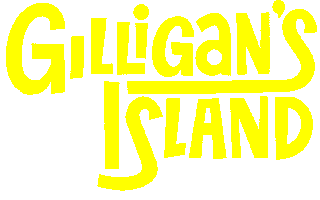 The Real Gilligan's Island Musical Songs

Songs
 
1. Overture/The Ballad Of Gilligan's Island
 
2. Shipwrecked!
 
3. It's Good To Be Rich
 
4. Island Lullaby
 
5. Hieroglyphics
 
6. Lucky Guy
 
7. How Do You Know You're in Love
 
8. Natural Phenomenon
 
9. The Legend
 
10. Bring On The Little Green Men/Change Your Ways
 
11. Though Winds May Blow
 
12. Entre'Act
 
13. Things I Never Said
 
14. Together
 
15. Goodbye Island
 
16. Things I Never said - reprise
 
17. The Professor's Lament
 
18. Meeting of the Minds
 
19. I'll Spend My Time with You
 
20. Change Your ways - reprise
 
21. Worlds Apart
 
22. Ballad Of Gilligan's Island - reprise