S.S. Minnow Tours Again!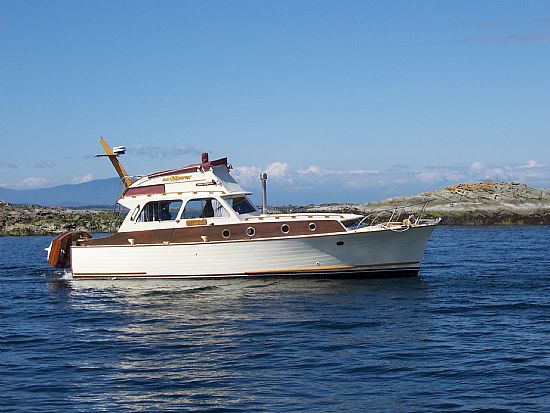 NANAIMO, B.C. Canada (AP) -- Gilligan's Island fans seeking some 1960s television nostalgia may soon be able to take a three-hour tour from Vancouver Island on one of the boats that appeared as the S.S. Minnow in the CBS series.

Ken Schley and John Briuolo have restored the 36-foot mahogany vessel they bought a couple of years ago for about $89,000. "We're just trying to find a skipper and a helper," Schley said. He said the 48-year-old boat is the one seen leaving the harbor in the opening sequence just before, according to the theme song, "the weather started getting rough." It even has an old life preserver emblazoned with S.S. Minnow. A photo of the show's cast hangs above the galley table.

The boat's original name was Blue Jacket, but it was renamed for a big fish in broadcasting, Newton Minnow, who at the time was chairman of the U.S. Federal Communications Commission. Minnow is perhaps best known for calling sitcom-heavy 1960s television a "vast wasteland." "Just for the show, for a stage name, it was called the S.S. Minnow," boat broker George Schultz said. According to the show's theme song, "the tiny ship was tossed. If not for the courage of the fearless crew, the Minnow would be lost," and much the same could be said of the real thing.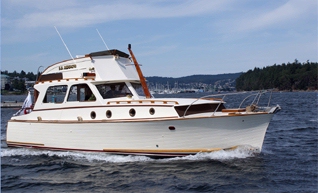 Former owner Scotty Taylor kept the twin-diesel Wheeler express cruiser in Parksville, after buying it from a previous owner who was taking the boat south from Alaska when it hit a reef in Hecate Strait, between the Queen Charlotte Islands and the mainland. Taylor bought it for salvage value after promising he would see to it that it was restored. Schley said Taylor moored the boat next to his own vessel for years. "I knew it was the Minnow. Everybody in the marina knew it was the Minnow, but it didn't get any fanfare," he said. Now he says it's seaworthy for tours. "I had a professional boat craftsman do it," Schley said. "It was definitely aged. There was a lot of wood rot. "If we wanted to do tours or anything fun with it, it wouldn't have met any of the Coast Guard standards," he said. "We took the boat right down to the gunwales." Schley recently gave a tour to "Gilligan's Island" fan Todd Krainer, who was born long after the show's three-year run ended in 1967.

"It's amazing," Krainer said. "It's in way better condition than I ever thought it could be. It's just stunning, actually, the work they have put into this thing. You see all those reruns as a kid . . . and here it is in front of you. It kind of brings it all back at once." The restoration cost Schley and Briuolo about twice as much as the purchase price. Now they aim to recoup some of their investment as they take the restored Minnow to fundraising events and offer tours. "It has definitely been a labor of love," Schley said. "You know, they say a boat is a hole in the water (into which you pour money). This is a crater in the water."
Inside the Minnow
Inside the Minnow 1
Inside the Minnow 2
Outside the Minnow


SPECS
BOAT INFO  
Type: ClassicPower   
Year: 1960  
Length: 37' 0"   
Location: Parksville, British Columbia  
Price: $99,000     
 
BOAT DETAILS  
Engine:GM Detroit 
Condition:Excellent 
Engines:Twin 
Engine Hours:<200
Drives:IB
Hull Material:Wood
Horsepower:250
Beam:10' 10" 
Fuel:Diesel 
Draft:3' 4"  

ORIGINAL S.S. MINNOW from GILLIGANS ISLAND TV SHOW. Engine rebuilt in 1997, 10' Dinghy, 3 batteries, sleeps 5. This article first appeared in the September 2008 issue of The Log Newspaper. All or parts of the information contained in this article might be outdated.