Alan Hale's Lobster Barrel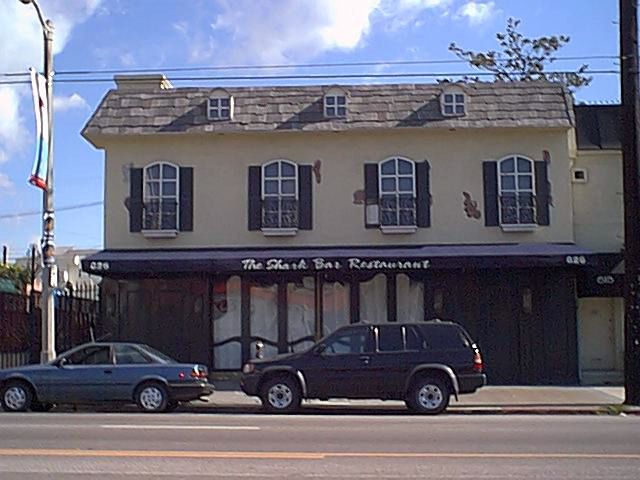 "The first thing I'll do when I get back is sink my teeth into a nice juicy steak." Skipper - 1965


Alan Hale Jr. didn't just portray the 'Skipper' on Gilligan's Island, but was also a well known owner of a restaurant called "The Lobster Barrel." His famous restaurant, which was in business for about 15 years in the 70's and 80's, was Located on Hollywood's 'Restaurant Row.' Alan often greeted customers wearing his skipper's hat just like the one he wore in the show. He would stroll through the restaurant greeting patrons, signing autograph cards and even giving away several "Captain's Hats." Folks said time after time that Alan had always shown extreme good will which made their experience much more memorable.


The Lobster Barrel is now closed and was the home of a bar called "The Shark Bar Restaurant." Not too sure why it is no longer in business, but it's still standing and you can see it at 826 N. La Cienega Blvd. in Los Angeles, CA.

Dave Cunnnigham wrote to us and said that his parents took him to eat there once when Alan Hale Jr. was there. They all had steak except for his Dad, he had the lobster. After dinner the Skipper was at the door greeting guests, and he thanked them for coming. Alan looked down at David, messed up his hair and said, "Thanks for coming little buddy!" David remembers it like it was yesterday.
---
Ron Breznay writes: My brother and I were living in L.A. at the time and our parents came out for a visit. We took them to the Lobster Barrel, but we didn't tell them that it was Alan Hale's place. I had heard that he usually makes an appearance, so I wanted them to be surprised when he walked in. However, we didn't see him. We might have been too early as our dinner reservations were for 6:00 (my parents don't like to eat late). While we were there, I heard one of the other patrons ask a waiter if Alan Hale was going to be there, and the waiter said that "he'll be by later."


It was a very nice dining experience and an elegant restaurant. There were plenty of waiters, who were in tuxedos or formal wear. They were very attentive too. When you drank out of your water glass, they were there immediately refilling it.


My father thought the waiters were a little too attentive. He said they kept an eye on us "like they were the Mafia." I didn't pick up on that, though, so maybe it was just his perception.


I had Lobster Newburg. It was delicious. I don't remember what the others had.

---
John Turner tells us that David Carradine (From Kung Fu) supposedly got drunk and rowdy while at the restaurant and had started to do some damage to the place using his martial arts. Alan Hale had to throw Mr. Carradine out and did so using a baseball bat, just in case.


Outside Lobster Barrel
Inside Lobster Barrel
Lobster Barrel Matchbook
Lobster Barrel Business Card
Lobster Barrel Comic

---
Menu, Front Cover
Main Menu, Inside
Specials