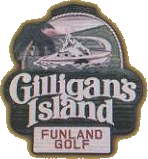 WOW! There really is a Gilligan's Island Funland Miniature Golf located in beautiful Garden City South Carolina! Our fan club member Diane Yancey was kind enough to make the trip and brought us some fine pictures located below.

---
Set sail for family fun at the Gilligan's Island Minature Golf! Challenge yourself on our complex maze of golf holes. Surrounded by lush tropical plants, cascading waterfalls and rapid waters, venture through caves and secret pathways while attempting that elusive hole in one.


Gilligan's Island Golf offers play all day for only $10.00. One of the best family fun packages on the beach.



Print and Present This Coupon Above

---
Sign From the Road
Golfcourse View #1
Golfcourse View #2
Golfcourse View #3
Brochure Picture
Need Directions?
More Directions