Free Willy!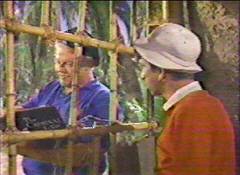 ---
Star Magazine New Update
Click here for newspaper clipping. (ryaneff@shaw.wave.ca)
---
I'm sure you've heard by now that Bob Denver was busted for possession of marijuana. If the Professor would have been caught for doing this sort of thing, they probably would have changed his name to "The Pharmacist". Would that be wierd, "The Pharmacist and Mary Ann, Here on Gilligan's Isle." Oh well, here is what was said in a few articles.
"Smooth Sailing", and above all, Free Willy!!!
---
Mr. Showbiz


We always knew Gilligan was enjoying more on that island than just coconut cream pies. Bob Denver, who played the Skipper's lovably klutzy first mate on the shipwrecked S.S. Minnow from 1964 to 1967, was arrested on Thursday in West Virginia after a package containing marijuana was delivered to his home, reports the Associated Press. The actor was charged with marijuana possession and released on $1,000 bond.

Authorities in Pueblo, Colo., reportedly notified West Virginia police earlier in the week that a package containing the kind bud was on its way to Denver's Princeton home. According to Lt. Bruce McNeill, an officer delivered the package Wednesday night, and a short time later a drug task force used a search warrant to enter Denver's home, where they found about 10 grams of pot and some drug paraphernalia. Police ended up confiscating about an ounce and half of marijuana from the package and from Denver's home.

"He was very apologetic over the incident and remorseful," McNeill said. No word on how police knew what was in the package.

If convicted of the misdemeanor, the Denver, 63, could face up to six months in jail and a $1,000 fine.

Denver, who also starred as television's first hippie, Maynard G. Krebs, on The Many Loves of Dobie Gillis from 1959 to 1963, moved to West Virginia with his wife, Dreama, about seven years ago. The couple produces a weekly radio show Weekend With Denver and Denver.
---
From E! Online
Well, there were a lot of plants on Gilligan's Island.


We're grasping here for anything to help us process the following: Bob Denver. Gilligan. Pot. Busted.

The 63-year-old ex-Castaway admitted to a local TV news anchor in Bluefield, West Virginia, today that he has been charged with possession of marijuana.

Local authorities say Denver has not been arrested, but declined further comment, allowing only that the Far Out Space Nut had been the subject of an investigation.

WVVA-TV newsman Kevin McGraw says the actor is a longtime resident in good standing in West Virginia.

But this morning, scuttlebutt had it that something was up with the Skipper's "little buddy," according to McGraw.

The anchor placed a phone call to Denver's home. The actor then reluctantly confirmed that he was facing a misdemeanor drug charge, McGraw says.

In West Virginia, possession of less than 15 grams of marijuana for personal use is disposed of with minimal fanfare: No arrest, no fine, automatic probation. (Assuming it's a first offense.) In six months, the offense can be deleted entirely from the person's record.

Bob Denver's scrape with the law is the third celeb-related drug bust this week, following the arrests of usual-suspect types The Rocker (Scott Weiland) and The Hot, Young Actor (Brad Renfro).

About the closest Denver previously has come to scandalous behavior was playing TV's first beatnik, Maynard G. Krebs, on The Many Loves of Dobie Gillis (1959-63).

He went on to play TV's biggest idiot for three, land-locked seasons on Gilligan's Island.